Park of happy animals – this is a different place for a more relaxing rest free from the pressures of the world. Come and be yourself and meet with such a wide variety of animals as you will not encounter so close anywhere in Ukraine!
XII MONTHS" ZOO TODAY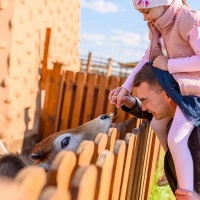 Come and be yourself and meet with such a wide variety of animals as you will not encounter so close anywhere in Ukraine!
Our park provides a place of rest and leisure activity with a direct way to experience and communicate with the animal kingdom. In an atmosphere of relaxed fun, we bring you closer to the wild natural world so that you will be paces away from its magnificent creatures in all their beauty and wild splendour.
"XII Months" zoo is the first and only modern Ukrainian village of happy animals, where you are the guests to visit them. And you will be treated during your stay as our dearest guests on each visit to us.
The zoo is located on 16 hectares and operates 365 days a year. You will be able to get acquainted with more than 100 species of animals much closer than usual. And some of our animals are extremely rare.
Each of them lives in their own "comfortable apartment" with an individually and carefully planned layout. All the animals' buildings are designed and equipped using the best examples of European zoos. The interior is also individually designed and is as close as possible to the real-life habitat of each animal. And the fauna is carefully chosen from different parts of the world.
Something of what waits for you
At the entrance you will be welcomed by the owls and can proceed to the wolf's alley where you can see grey common wolves and white arctic wolves as well as both red and black ones.
On the "Island of Cats" you will visit a family of white lions with its master, a real philosopher named Ludwig. And, just a short distance from there, are the apartments of other wild and predatory animals: with cheetahs, leopards, Bengal white tigers, caracallas, pumas, lynxes, hyenas and African hunting dogs.
Moving on you will come to a wild whirlwind of cheerful chattering inhabitants on the "Islands of Apes". Their lodgings are decorated with a web of ropes. In these "houses" you will also notice some rare animals such as the colobus; the maras (also known as the Patagonian rabbit); a couple of kinkajou, and a family of capuchins. See if you can find them all. And then, you may get acquainted with the only family of aardvarks in Ukraine.
You will certainly get to meet the very polite camel named Liosha, and should look out for a friendly pair of giraffes Mykola Stepanovych and Marie with their son Vito. But don't forget to feed the benevolent rhino Archy and watch the striped zebras trotting to and fro.
BACKGROUND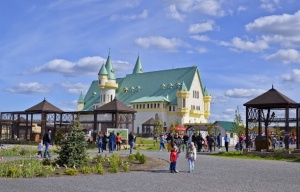 Until today, there was no full-fledged all year-round zoo in Ukraine. We decided to correct this mistake by creating the "XII Months" zoo. All conditions are provided here so that you can plunge into the amazing world of animals on any day of the year.
Modern summer cages, under-floor heated winter cages, a balanced diet taking into account the needs of every resident and a 24-hour 7 days a week healthcare service for all the animals to keep them well. We love our residents and we hope that you will too. All friends need visitors and we hope that you too will love these creatures as we do and visit us throughout the year.
We have a rule in the zoo: "always go an extra mile".
It was not easy to fill our village with animals. Most importantly, each of them need their own enclosure with an environment as close to their natural home as was possible. Bears need ponds, but a lynx needs a high-rise wooden construction so that she can hide and play, whereas rhinos require fortified walls so that when running around as they love to do they will not smash the walls to smithereens; and so each animal is different and must be treated differently.
And so we continue the improvement most recently by redecorating. The first stage was the rhino's home, so in March of 2017 beautiful cliffs appeared, and a lake for Archy to bathe adorned with a column of the "ancient world" totems.
2017 was the year when we began constructing a new large house, divided into two parts. One for the hippopotamus, and the other a crocodile farm! We are constantly working to improve your view of the wild, so you will be able to see how the hippo floats and moves above and below the water which is much more interesting than looking at them from above.
But what is truly unique about the "XII Months" experience is that it combines the visits to the animals with a true family recreation park. On the central square of the zoo, celebrations, festivals and concerts are held throughout a year. And we have a swimming pool, children's playgrounds, restaurants, a fishing lake and numerous places to relax, in an environment that is full of special delights: the fairy-tale castle, statues, walkways, and numerous beautiful corners and vistas.
The construction of the zoo took two years but improvement is always ongoing. Here is what it looked like back in 2013.
IN BRIEF
"XII Months" is a zoo with wider family recreation where children will learn as they relax, and enjoy as they come face to face with nature and a variety of other activities for enjoyment.
The territory of the zoo includes:
the contact zoo
swimming pools for children and adults
playgrounds and bouncy castles for children
photo studios
a lake with a gazebo
restaurant and food court area
OPEN HOURS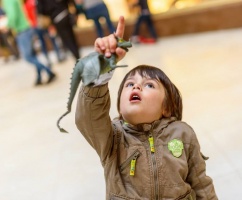 Dear guests!
We are open every day throughout the year. The last entry to the park is 2 hours before closing time, animal viewing finishes one hour before closing.
Summer (April, 1 – October, 31) -

10 am – 9 pm
In the summer, the ticket office operates until 7 pm, the park is open until 9 pm.
Winter (November, 1 – March, 31) -

10 am – 8 pm
In the winter, the ticket office operates until 6 pm, the park is open until 8 pm.
HOW TO GET
BY CAR
GPS coordinates Google maps: 50 ° 44 \ '13 .59 \ '\' N, 30 ° 17 \ 49 .62 \ '\' E
GPS coordinates Yandex maps: 50 ° 44 \ '13 .59 \ '\' N, 30 ° 17 '49 .62 \ '\' E
BY BUS
No. 355 from Heroiv Dnipra metro station
We can also arrange limousine, minibus and bus transport for parties and birthdays and special occasions for that special someone or moment – on application